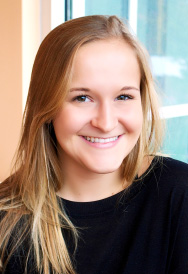 Sarah Rogers
Staff
Experience
I took yoga classes sporadically throughout high school, but really fell in love with it after I joined Dragonfly about a year ago. Since then, yoga has become such a regular and important part of my everyday life! I love that I can get on my mat to sweat it out physically, while also clearing my mind mentally.
Favorite Pose
My favorite pose is Tree Pose. I love how strong and balanced it makes me feel. I also love that it has so many variations so that no matter what kind of day I'm having, I can modify it to my needs.
Favorite Quote
"Who are you? To define is to limit."
—Oscar Wilde
Why I Love Dragonfly
I love Dragonfly because the atmosphere is amazing! Everything from the warm and friendly staff to the calming music constantly playing in the background, adds to the amazing classes taught by the best instructors around.
Little Known Fact About Me
I played ice hockey for 12 years growing up.