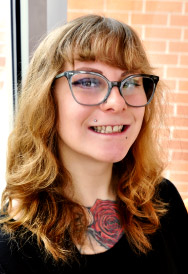 Sarah Lo.
Instructor
certifications
200-hour Vinyasa Teacher Training - Perennial Yoga and Wisdom
30-hour Yoga Nidra Certification - ShivaShakti School of Yoga
30-hour Pranayama and Meditation Certification - ShivaShakti School of Yoga
30-hour Yin Certificate - Yoga with Kassandra

My Teaching Style
I love offering a welcoming, judgement-free environment for students to explore their own strength and creativity. My classes offer a challenge, but also have options for modifications to meet your body where you are at. You will be invited to tune into your breath, and to look within and discover peace of mind.
Experience
I started practicing yoga in 2011 to increase my flexibility. I immediately was hooked and noticed countless mental benefits along with physical. I became a Yoga Instructor in 2018 and my yoga study and practice deepened immensely. I am always reading a book about yoga philosophy and am in love with my yoga journey.
Favorite Pose
Camel Pose. I love this pose because its heart-opening and expansive qualities boost my mood and energy levels. The stretch and back muscle activation help me feel ready to take on my day.
Favorite Quote
"Change takes courage"
– Alexandria Ocasio-Cortez
Why I Love Dragonfly
Everyone at Dragonfly is so kind. I love the many options of fitness classes along with power and yin yoga. It truly is a well-rounded approach to wellness.
Little Known Fact About Me
I have a unique taste in music-ranging from Broadway soundtracks to black metal.
Sarah Louis's Class Schedule