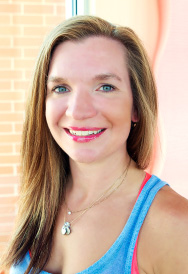 Samantha Brenner
Instructor
certifications
200 Hour CYT
Power Up
Yoga Up
Circuit Up
BarreAmped (Level 2, Bootcamp, Fire)

My Teaching Style
I have always been active and interested in a variety of fitness methods, especially weight training. I think my love for strength training and various types of exercise shows through in all of the classes I teach whether it be yoga, barre, or any of the "up" classes. I enjoy coaching clients to try something new, explore possibilities, and challenge themselves physically and mentally. I like to get creative and try to think outside the box as often as possible in my classes, yet I am able to stay true to the arc of each class so that clients are challenged in a familiar way.
Experience
I have always been active and grew up a swimmer. It was my high school swim coach who instilled a love of weight training. Although I don't swim as much as I should, I am still an avid believer in cross training. I weight train, run, and take all of the classes Dragonfly and our sister studio, Flyght, have to offer. I am currently studying to obtain my personal training certificate from the NSCA. I was a high school English teacher for nine years--an experience that helps me to find ease in front of my classes. I have been a student at Dragonfly since 2013, and love practicing along side all of our wonderful clients!
Favorite Pose
Ardha Chandrasana (Half moon pose)
Favorite Quote
"Show me a guy who's afraid to look bad, and I'll show you a guy you can beat every time."
– Lou Brock
My husband mentioned this quote a few years ago, and ever since I have liked it. It reminds me to let things go, something I work on in all areas of my fitness training – especially in yoga. I remember that to make progress I need not worry about how I look or what others think – if I let negative self talk in, I will continue down the same path and away from my goals.
Why I Love Dragonfly
Dragonfly is a family. No matter what studio or class you are in, you belong. A person can feel as if he or she has always just been there and was meant to be there--whether a new or long time client.
Little Known Fact About Me
I collect Christopher Radko Christmas ornaments and am extremely particular about my ornaments and how they are placed on the tree!