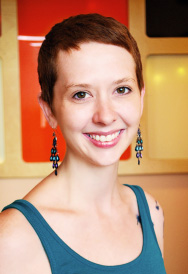 Available for private sessions
Sabrina Bodden
Instructor
certifications
Alignment Yoga CYT
mini yogis yoga for kids CYT
YogAutism Training & Volunteer Experience
WI Licensed Massage Therapist since 2011
Trained Birth Doula since 2008
First Aid, CPR & AED Certified

My Teaching Style
In my teaching, my focus is on finding optimal movement and alignment for each unique body; maximizing benefit while reducing strain and effort; educating students about their anatomy and physiology to empower them to make healthy choices; and encouraging a very mindful, kind, and nurturing practice. I give students tools and knowledge so that they can better tune into and understand the powerful messages that are given by the body. I consider the body the teacher, and me simply the translator and guide.
Experience
I began practicing yoga in 2008, on the recommendation of my doctors who had treated me for severe, debilitating pain throughout my whole body. I was diagnosed with 23 different conditions, and it was clear they couldn't really help me because there was no clear consensus on what was "wrong with me." When I discovered Alignment Yoga, I knew I had finally found an answer to my suffering.
I completed Alignment Yoga's 15 month long 200-hour Advanced Studies Program in April of 2012, and during that time, also completed the Yoga for Autism training at the UW's Waisman Center, now simply called YogAutism. Last year, I completed the mini yogis yoga for kids' teacher training, giving me a better understanding of how to share this transformative practice with young people.
I have taught over 1000 hours of group classes, and over 50 hours of private therapeutic classes.
Favorite Pose
Adho Mukha Svanasana (Downward Facing Dog)
Favorite Quote
"For a seed to achieve its greatest expression, it must come completely undone. The shell cracks, its insides come out and everything changes. To someone who doesn't understand growth, it would look like complete destruction."
-Cynthia Occelli
Why I Love Dragonfly
I love Dragonfly because from the moment I walked in the door, I felt like family! The staff is wonderfully welcoming and goes out of their way to make everyone feel at home. It's great to practice in a space where I feel like I can be myself - and where all bodies and abilities are celebrated.
Little Known Fact about me
I dream of living in a Tiny House on wheels so I can travel the country teaching yoga retreats and selling jewelry at craft fairs.