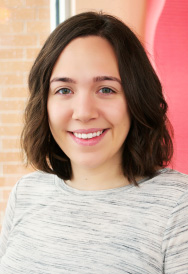 Robyn Rauman
Staff
Experience
My love for yoga began in August 2012, at Dragonfly Hot Yoga. At the time, yoga was one of the few spaces where I was able to turn inward and connect to myself. Over the years I have found that I have learned more about who I am through my practice and have gained strength both physically, emotionally, and mentally.
Favorite Pose
Mountain Pose (Tadasana). It is incredibly powerful and has so many benefits.
Favorite Quote
"Everything happens for a reason"
Why I Love Dragonfly
The no-judgement come as you are feel and community. The down-to-earth instructors and staff create an atmosphere that promotes inclusivity and warmth that is unlike any other yoga studio.
Little known fact about me
I LOVE squirrels.