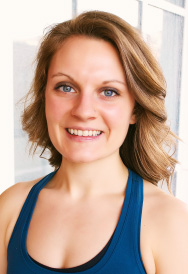 Rissa Lane
Staff
Experience
I started practicing yoga in 2011 when my high school offered a yoga and pilates combo as a physical fitness elective course. It was written in on the syllabus that we spent the entire class period in savasana on Fridays, so it was a pretty popular class among sleep-deprived teenagers!
I continued to practice yoga as a counter to my normal routine while I trained for two-marathons throughout college. Overtime, I have found that I always get from yoga exactly what I need, whether that is extra chaturanga push-ups or many slow and deep breaths.
Favorite Pose
My favorite pose is any arm balance pose! As a runner, my relationship with arm balances started out pretty rocky, because I just prefer to be upright and on two feet. I patiently worked at and embarrassingly attempted many different poses for months. I have never felt so accomplished as when I finally lifted both feet off the ground in Running Man!
Favorite Quote
"My mission in life is not merely to survive, but to thrive; and to do so with some passion, some compassion, some humor, and some style."
- Maya Angelou
Why I Love Dragonfly
I love Dragonfly for so many reasons, but beyond all else, I love the community that is Dragonfly the most! As a long-time team sport athlete, I have learned that the 'people I do it with' are the most important part of whatever it is I am 'doing': yoga, running, swimming, cycling... there's just something about sweating with your friends!
Little Known Fact About Me
I haven't painted my fingernails in six years! I love to create and do things with my hands like baking bread and weeding the garden. As a result, I have only once in my life managed to not ruin freshly painted nails, so I did away with it all together one day. I haven't thought twice about it since!