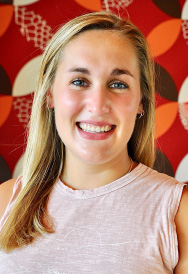 Rachel Kolb
Staff
Experience
I started yoga in high school when my soccer coach made us do yoga sessions at practice. At first I was not good at yoga and it was hard for me to do some of the poses. Quickly after, I realized how much I enjoyed it and how great of an alternative it is to running!
My freshman year of college, a friend brought me to Dragonfly and I fell in love! It has also been a great alternative to training for two half-marathons.
Favorite Pose
Child's Pose - Great pose to feel grounded
Favorite Quote
"Go where you feel most alive."
Why I Love Dragonfly
Every time I walk through the doors of Dragonfly, I always have a smile on my face because of the community at Dragonfly. As a college student, Dragonfly has allowed me to take my mind off of school and let me focus on my yoga practice.
Little Known Fact About Me
I love to go camping!