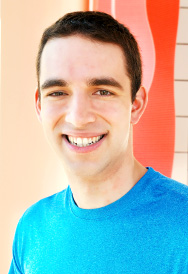 Nate Dick
Instructor
certifications
CYT
RYT

My Teaching Style
I teach a fun, energetic class that leaves plenty of space for growth. I love creative sequences that keep students breathing, moving, and present.
Experience
I graduated from Davidson College in 2014 with a degree in Economics and moved to Madison shortly after. One day, a friend brought me to my first yoga class at the Fitchburg Dragonfly Studio. A few days later I went again. Soon after I was going everyday. Now I am here, after completing my 200 hour training at Dragonfly in 2018.
Favorite Pose
Crow Pose - I love all arm balances, mostly because I could not do any of them when I started! Whenever I am in an arm balance I feel like a kid again.
Favorite Quote
"You might as well live."
- Dorothy Parker
Why I Love Dragonfly
Dragonfly is amazing! The instructors are all so talented and friendly, and the community is truly inspiring. I am so happy I found this place and have the opportunity to share it with others.
Little Known Fact About Me
I played the marimba for 13 years.
Nate Dick's Class Schedule