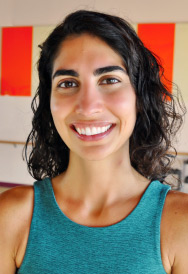 Nassim S.
Instructor
certifications
Yoga Sculpt (Core Power Yoga)
200 hour (Core Power Yoga)

My Teaching Style
My aim as a yoga instructor is to empower each and every student through a challenging, concisely cued, fun class in which every student feels strong and seen by me. I want each student ride the beat of the music with their breath for a mind-body experience that they cannot wait to do again.
Experience
My yoga practice began in 2010 when I was a sophomore in college. As much as I struggled during the first few classes, I was hooked! I transferred colleges the following year but continued my yoga practice at Core Power Yoga (CPY) in Minnesota. It was there where I was introduced to Yoga Sculpt and I immediately fell in love with that format. I loved how it challenged me, both mentally and physically on my mat, and I was able to use that strength to face challenges off my mat. In 2014, I decided to enroll in Yoga Sculpt Teacher Training at Core Power Yoga's studio in Highland Park. Two years later, I began teaching at three brand new CPY studios in Dallas, TX. However, my time in Dallas was cut short to start grad school and I moved back to Minnesota – thankfully, I was still able to teach yoga sculpt. After graduating in 2018, I moved back to Dallas and continued teaching at CPY. I decided to take my yoga practice a step forward and completed my 200-hour in 2019. I moved back to Madison to start pharmacy school in 2019 but wanted to continue teaching yoga. I'm so excited to be back teaching and meeting a new community.
Favorite Pose
Warrior II – I love how strong and powerful I feel in this pose.
Favorite Quote
"With all its sham, drudgery, and broken dreams, it is still a beautiful world."
― Max Ehrmann, Desiderata: A Poem for a Way of Life
Why I Love Dragonfly
I love the community here at Dragonfly. I've always felt so welcomed and supported by all my fellow yogis. I'm so excited to get to know the community!
Little Known Fact About Me
I finished my Master of Public Health (MPH) a few years ago and currently finishing up my pharmacy degree here at UW-Madison.
Nassim S's Class Schedule