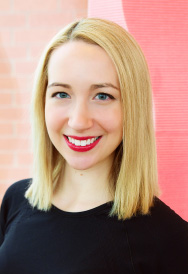 Michaela Gallo
Instructor
michaela.g@dragonflyhotyoga.com
certifications
BarreAmped Level 1

My Teaching Style
My barre class is inspired by music that motivates, energizes, and connects with students. I love to sync movement with music, following the energy level and beat of the song. I aim to challenge students while also providing a safe environment where students can learn and ask questions about barre.
Experience
I graduated from Georgetown University in 2015 with a degree in nursing and have worked as a pediatric RN ever since. I found Dragonfly when I moved here from Northern Virginia in 2016. Dragonfly provided a community and positive atmosphere that made transitioning to life here in chilly Wisconsin so much better. I have grown as a student and as a person through the instructors and classes that challenge me weekly. I am excited and humbled to have the opportunity to grow as a BarreAmped instructor at Dragonfly.
Favorite Pose
My favorite BarreAmped movement is standing seat work with positioning on profile. I love the many movement variations it offers and the precision the form requires. It is a simple but powerful exercise!
In yoga, I love child's pose- so relaxing! Luckily we include child's pose in barre as well!
Favorite Quote
"Do one thing that scares you every day."
—Eleanor Roosevelt
Why I Love Dragonfly
I was drawn to Dragonfly when I moved to Wisconsin because of the welcoming environment, talented instructors, beautiful facilities, and variety of classes. I have grown to love Dragonfly even more since then because of all that Dragonfly does for the community and how it offers students a plethora of opportunities to become more involved with the studios!
Little Known Fact About Me
All seven members of my family (including the dog) have names that start with the letter "M". Growing up, I was often accidentally called by my sister's or dog's name!
Michaela Gallo's Class Schedule