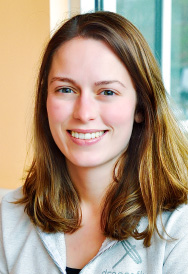 Meranda M.
Instructor
certifications
Yoga Up

My Teaching Style
I like to create a safe space for my clients to let go of ego and really get what they need out of a workout. Our bodies are so different from day to day, and recognizing when we can push that extra 1%, versus when we need to back off is so powerful! The mindfulness we practice during a traditional yoga practice totally applies to Yoga Up- and I'll challenge clients to push themselves while listening to what their body needs. I love to incorporate compound and functional movements in class, and will offer tons of modifications. My goal is that clients will feel proud of their body's abilities and strength by the end of class!
Experience
I dabbled in yoga here and there college, taking classes either from youtube videos that I could find, or going to my local gym once a week for their free class. I loved the physical exertion and the mental bliss that practicing gave me. When I moved to Madison in 2018, I decided that it was time to really commit to a practice and decided to try out some classes at Dragonfly. Immediately I was hooked. The atmosphere was friendly, I loved the heated rooms and the classes made me truly feel like I wouldn't be judged for my ability. After working the desk for a while, I knew I wanted to be a part of the Dfly community in another way, and got certified in Yoga Up in the summer of 2021!
Favorite Pose
Half-moon. Some days I can rock this pose and other days I can't keep my balance to even get my foot in the air. I love that this pose makes me recognize that my body is different from day to day, and teaches me that sometimes failure is alright.
Favorite Quote
"Great things never come from comfort zones."
Why I Love Dragonfly
Dragonfly has been my saving grace since starting graduate school. With all the pressures from my job and every day life that I've felt, Dragonfly is one of the few places I can go to relax. It's an environment where I don't feel judged or pressured, and am able to fully commit to my practice and myself. The instructors are always great and I love the sense of community that the studio fosters.
Little Known Fact About Me
I'm a total science nerd. I'm actually going for my PhD in chemistry :)