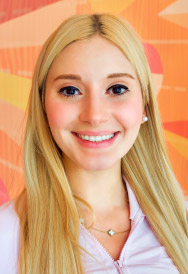 Melissa D.
Instructor
certifications
RYT - 200, Yoga Alliance Certified
My Teaching Style
I encourage students to have fun and express themselves while trying new things during their practice. I particularly focus on strengthening, flexibility, and mindfulness.
I love teaching yoga with a traditional approach. My goal is to help students feel confident by mastering important poses as beginners, so they can advance further in their yoga journey.
Experience
I started my yoga journey eight years ago here in Madison. After practicing yoga as a beginner, I decided to train on the island of Bali at a yoga school. After some extensive and rigorous training, I decided it was time to share the knowledge I had learned throughout my yoga training with students.
Favorite Pose
Lotus pose (Padmasana)
Not only is my favorite flower a lotus, but it is also my favorite pose. I love lotus pose because I benefit from the physical strengthening and stretching as well as the mindfulness that comes with it. It allows me to just be.
Favorite Quote
"A disciplined mind brings happiness."
— Buddha
Why I Love Dragonfly
I have always loved Dragonfly as a student who practiced consistently. I always felt at home, welcomed, and accepted. Dragonfly is there for me when I need a good yoga practice, a positive environment, and a fun place to be and connect with myself as well as others!
Little Known Fact About Me
I love animals! I love volunteering with animals and dogs. I also have a three-year-old golden doodle named, "Lucy."
Melissa D's Class Schedule