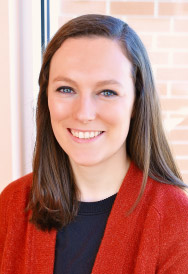 Meghan Kelly
Instructor
certifications
Power Up

My Teaching Style
I teach a high energy class to push students to reach their edge. Each class will incorporate new and challenging exercises built around familiar movements to develop consistency in form and performance. My goal is create a fun (I love a good woo!) atmosphere where students feel empowered to take what they need that day.
Experience
I've played competitive sports my whole life and fitness has always been a priority. I started attending yoga and fitness classes at Dragonfly when the Downton Studio opened in 2015. I was hooked after I completed my first Power Up class because of the energy and intensity of the class. I completed Power Up instructor training Fall of 2017.
Favorite Pose
Crescent Lunge – in this pose I feel strong and powerful, while also challenged.
Favorite Quote
"Get caught trying."
—Hillary Clinton
Why I Love Dragonfly
I love Dragonfly for several reasons. I love the diverse class offering, on any given day I can find a class that will fulfil my yoga craving. Dragonfly provides a comfortable and positive space that I always feel welcomed by. All employees and students truly live out the moto of "every shape, every size, every person". Finally, I am grateful for the community Dragonfly has introduced me to. I have made lasting friendships and relationships with individuals are encouraging and supportive.
Little Known Fact About Me
I'm a huge gymnastics fan! I never participated in the sport, but I follow both elite and college gymnastics closely. I love to talk gymnastics with any other gymnerds out there.
Meghan Kelly's Class Schedule