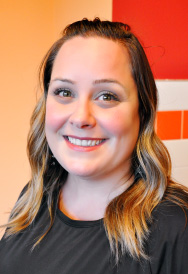 Lauren K.
Instructor
certifications
200 RYT

My Teaching Style
I aim to unite breath and movement and focus on moving with intention. My classes get the blood and breath flowing with music that adds to the experience and poses that will challenge students.
Experience
My yoga journey began in 2016 when a friend in teacher training invited me to join her in a practice class. I left sweaty and exhausted and knew I needed more. A year later I took the plunge to go for teacher training to learn more about how to practice on my own. The more I practiced what I wanted to teach, the more I realized how much i enjoy helping students unite their breath and body with intention. I taught classes in a variety of hot formats in DC before moving to Madison in 2021.
Favorite Pose
Eagle Pose (Garundasana)- The story of Garuda turning into a bird to fly farther than ever with less effort is present in the way this pose challenges me to find both effort and ease while compressing and balancing! This pose feels different every day but the release feels so great at the end.
Favorite Quote
"Life's short; eat dessert first."
Why I Love Dragonfly
I love the environment the Dragonfly studios provide for all levels of yoga. I leave every class feeling accomplished and connected. This was the first studio I tried after moving to Madison and never looked back!
Little Known Fact About Me
I am an avid baker! I love making custom wedding cakes and birthday cakes that make people smile.
Lauren K's Class Schedule