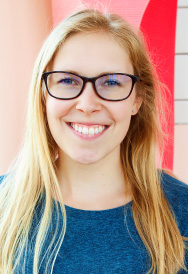 Lauren Hughes
Staff
Experience
When I graduated from Luther College in 2017, my 20-year long soccer career ended so I was actively looking to find a new passion that I could apply my love for fitness to. I had done some yoga geared towards recovery for soccer but I didn't have a lot of experience with the practice so I decided to try it out. As I started to attend yoga more often, I thoroughly enjoyed the physical and mental challenges it posed. I found that yoga truly put me in a state of "flow" (no pun intended), a feeling I had only ever experienced in soccer. I became a Dragonfly member a little over a year ago, which has since helped maintain both my physical and mental health. Now that I have started grad school, attending Dragonfly has played an essential role in decreasing my stress levels.
Favorite Pose
Warrior II
Favorite Quote
"Be the change you wish to see in the world"
Why I Love Dragonfly
I love the overall community feeling and calming effect Dragonfly has when you enter the studio. I appreciate the high variability in the class types they offer so I can ramp it up when I want to with classes like Power Up or relax on stressful days with classes such as Yin. I am always challenged, both physically and mentally, and feel greatly encouraged by the instructors in every class.
Little Known Fact About Me
I am working towards a doctorate in physical therapy at UW Madison.