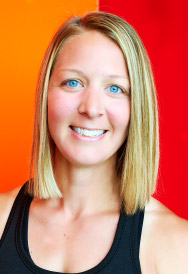 Lauren C.
Instructor
certifications
Yoga Up

My Teaching Style
My teaching style is a mix of energy, fun and motivating people to push to their potential - because there is always a little bit more that your body will do if you can talk your mind into it. I love to interact with clients, share stories about my day and create a warm and inviting vibe that will also challenge people to get the most out of their workout. I will almost always call burpees, love loud music and will blast all the beats. Anything from classic rock to 90s hip hop - as long as it has a good beat and makes people feel ready to throw down and happy, I'll play it.
Experience
My yoga journey began in 2016, when I was pregnant with my 2nd baby. I was looking for a prenatal yoga class that would help to keep me active, challenge my body and mind and prepare me for childbirth. After my first class, which included a sunset and candlelight, I knew I had found a home. After my son was born, I continued with a variety of classes and found a true love for Yoga Up and haven't missed very many Sunday YUPs since. Outside of teaching Yoga Up, I am also a TRX instructor, swim coach and health & wellness coach. I truly believe that life is better when we are healthy and fit and have a passion for coaching people through it.
Favorite Pose
If I'm in a flow class, Shirshasana (headstand). I love the challenge it presents as well as the focus that it takes to get into and hold this pose. It is a perfect blend of strength, balance and focus. If we're talking YUP, the answer is always Burpees. My favorite exercise of all-time.
Favorite Quote
"Start where you are. Use what you have. Do what you can."
– Arthur Ashe
Why I Love Dragonfly
I love the atmosphere and vibe at DFly. As soon as I walk in, I feel welcome and at ease. Whether I'm throwing down at a YUP class or finding my zen in Yin, I am always able to shut off and focus on the present moment. I love the community feel and being surrounded by amazing people who want to live healthy and fit.
Little Known Fact About Me
I have completed 4 Ironman Wisconsin races. I also have a serious dislike for cilantro.
Lauren C's Class Schedule