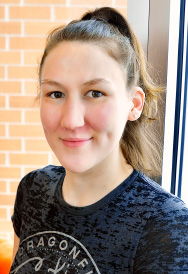 Laura G.
Instructor
certifications
CYT-200
RYT-200
Yoga Up

Experience
I started practicing at Dragonfly in 2015 and immediately knew I had to do the Yoga Teacher Training. I was certified at Dragonfly in February 2016 and started teaching here as well as adding in my Yoga Up certification. I moved away for Graduate School in late 2017 and have now returned in 2020 to teach again. I am so excited to be back with the DFly family.
Favorite Pose
My favorite pose is Mayurasana or Peacock pose. There is something magical about the elegance and strength required in this arm balance.
Why I Teach
I teach yoga and yoga fitness classes to find balance. Students inspire me with their strength, intensity, and resilience.
Why I Love Dragonfly
Dragonfly Hot Yoga studios have incredible staff and atmosphere. I'm lucky to be a part of the Dragonfly family.
Little Known Fact About Me
When I'm not at yoga, I'm in a lab coat. I work as a Scientist.
Laura G's Class Schedule