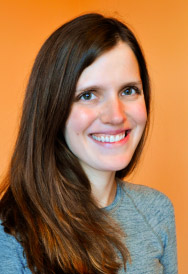 Kristen W.
Instructor
certifications
Certified Yoga Teacher (CYT-200)

My Teaching Style
My earliest yoga teachers taught me that poses don't need to be complicated for us to feel a sense of well-being and accomplishment - I bring this philosophy to my students now. During class, we'll work hard and explore various expressions of poses. My classes are centered around dynamic movement, breath and introspection. Class is a safe environment and all are welcome.
Experience
My first yoga class was at the local YMCA in Topeka, KS (my hometown) when I was in junior high. My practice has evolved since then, from doing home-workout yoga DVD's in my living room to experimenting with intense hot yoga sessions. I started my teacher training in 2017 and completed the 200-hour program in 2019. I love teaching to groups of all abilities, from athletes in CrossFit gyms to kids and parents in the park during the summer.
Favorite Pose
Crocodile. I sleep this way, so whenever we do it in class, it's like a bonus Savasana.
Favorite Quote
"Sometimes it hurts to know you can do it. It's an intimidating thing to realize because it means that the only person who can really define your growth and happiness is yourself. There is no shortcut to becoming your best self. The responsibility is on you."
– Alexi Pappas
Why I Love Dragonfly
This space is a gift and a luxury. Having a distraction-free, clean and welcoming place to practice with others is something I don't take for granted. I love silence, but I don't like to sweat alone and Dragonfly creates a place where that is okay. Also, the extra hair ties make me feel seen.
Little Known Fact About Me
I am the owner of 5 variously-sized weaving looms and yes, I can teach you.
Kristen W's Class Schedule