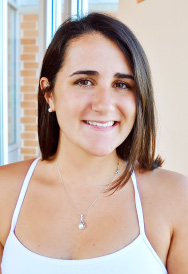 Kielty Holmes
Instructor
certifications
CYT

My Teaching Style
During my teacher training course one of my peers compared my teaching style to dark chocolate: "sweet and dynamic and tough all at once!" I think connecting breath with movement is very important when moving through class in order to make the practice of yoga about both mind and body, which I value coming from a background in psychology. I believe the mental practice of yoga is just as crucial as the physical practice, and I teach by the idea that inner strength creates the outer foundation. I love integrating hands on assists to help students challenge themselves to try new things they may not try otherwise, whether that is going deeper in a pose like a backbend, or trying an arm balance. I hope students leave my class feeling stronger and relaxed, both on the interior and the exterior!
Experience
I started regularly practicing yoga in 2017 in Omaha, Nebraska where I attended college at Creighton University. It took me a couple tries to get into a weekly routine of practicing but once I did, I was hooked. I loved how yoga made me feel physically and mentally. As graduation neared spring of 2019 with plans to move to Madison, my sister who lives here, sent me the link to the teacher training workshop at Dragonfly. I had never taken hot yoga or been to Dragonfly but I took a leap and decided to do the training with Tiffany Geier and I am so happy I did! I will never look back. Training reminded me that yoga is about so much more than just the asanas and physical practice. It can be a lifestyle. I am so excited to see how my practice grows and changes, and it is a blessing that I am able to do that at a place like Dragonfly surrounded by a wonderful community!
Favorite Pose
My favorite poses change depending on what I am working on in my practice but a constant pose that I can always count on for strength is Warrior II. It is empowering!
Favorite Quote
"For beautiful eyes, look for the good in others; for beautiful lips, speak only words of kindness; and for poise, walk with the knowledge that you are never alone"
–Audrey Hepburn
Why I Love Dragonfly
The community at Dragonfly is so friendly and welcoming! It is nice to be able to practice at a place where I feel accepted and comfortable, but also challenged to grow and get better. I love how many different kinds of classes are offered. They offer something to fit everyone's needs and preferences!
Little Known Fact About Me
My dad is one of ten kids and I am one of 39 grandchildren on his side.
Kielty Holmes' Class Schedule