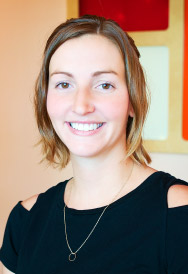 Keri R.
Instructor
certifications
CYT

My Teaching Style
I lead an energetic and challenging vinyasa flow class, creating an environment that challenges students to go to their edge while still caring for themselves. Students get the chance to have fun, play around with poses, and are encouraged to find patience with where they are in their practice. I seek to remind students of the mind and body connection that can be found in yoga, on and off the mat. I hope to pass on to my students the joy, peace, and contentment that I have found through my yoga practice.
Experience
I first discovered yoga 12 years ago in college, seeking the physical benefits of toning to balance out my running. However, after my 1st practice I was drenched in sweat and said, "That was a spiritual experience." From that moment on yoga became the yin to my yang and for the first time in my life I discovered a kind of meditation in motion where I could truly quiet my busy mind and find peace. Since my practice began, I felt a strong calling to be a yoga teacher and finally took that step in the summer of 2018 where I completed my 200-hour yoga teacher training at Dragonfly.
Favorite Pose
If I have to pick one… side crow! I love the power yet weightlessness I feel in the pose.
Favorite Quote
"Never backwards, always forward, always."
– Marvel's Luke Cage
Why I Love Dragonfly
Over my years of yoga practice, I have never felt as at home in a studio as I have at Dragonfly. Every class I've taken, and every instructor has brought something unique and special to help me grow in my practice. Dragonfly truly feels like a community and I'm so happy to be a part of it.
Little Known Fact About Me
I love to bake fancy cupcakes!
Keri R's Class Schedule