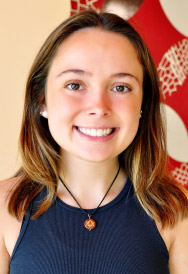 Kendall R.
Staff
Experience
I started taking yoga classes periodically last summer after graduating high school. I was always involved in sports when I was younger, so when those came to a close I wanted to find a way to continue being active. Because of my strong dislike for running, I decided to give yoga a try. In this, I realized that yoga benefits my mind along with my body!
Favorite Pose
Child's pose
Favorite Quote
"When the power of love overcomes the love of power, the world will know peace"
– Jimi Hendrix
Why I Love Dragonfly
Whether it's your first class or your fiftieth, Dragonfly always makes you feel welcome. Everyone is so supportive and open minded. I also love the scented towels after a session, of course.
Little Known Fact About Me
I grew up on a dairy farm!