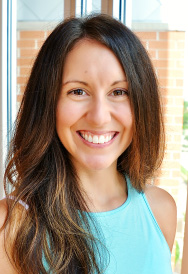 Kayla March
Staff
Experience
After graduating from UW-Madison with a degree in Sociology, I moved to Colorado to attend graduate school. I received a Master of Divinity from Denver Seminary and returned to Madison in 2016. In addition to serving in my faith community, I have also spent many years teaching group fitness and barre classes.
Favorite Pose
Half Moon
Favorite Quote
"You can't go back and change the beginning, but you can start where you are and change the ending."
-C.S. Lewis
Why I Love Dragonfly
I came to Dragonfly looking for a good Barre class (and found it!), but I have been blown away by how much more Dragonfly has to offer: amazing community of people, experienced and encouraging instructors, beautiful studios, and so many different classes that seek to serve the whole person—body, mind and spirit.
Little Known Fact About Me
I'm addicted to Life cereal.