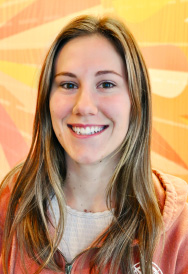 Jordan M.
Staff
Experience
As a former collegiate athlete, I have some experience with yoga, but loads of experience with fitness training, strength training, discipline, and resilience. I am always striving to better myself as an individual as well as the people around me.
Favorite Pose
I am looking forward to stepping out of my comfort zone with yoga and developing a stronger passion for the practice.
Favorite Quote
"To me there are three things everyone should do every day…If you laugh, think and cry, that's a heck of a day."
– Jim Valvano (Jimmy V)
Why I Love Dragonfly
Fitness and community are two things I value most. When I was introduced to Dragonfly, I was immediately drawn to the uplifting atmosphere and felt physically and mentally stronger after each class. It became clear to me that I wanted to be a part of the Dragonfly team and community!
Little Known Fact About Me
I am an elementary level Special Education Teacher :)