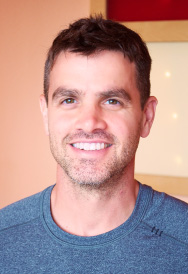 John Harmon
Instructor
certifications
E-RYT 200
TRX
Baby Om

My Teaching Style
#partyonyourmat
Currently what is happening in my class is... I'm simply trying to make yoga a fun, healthy event you can look forward to attending. Let's keep it loose and light while getting athletic.
I teach the class I would want to take. I play a wide variety of music; and I play it a little louder than other classes maybe do.
My process is this - I create a playlist. I run to it multiple times. Then, try to improvise a flow based on the music and the physical prowess of the attendees. Come give it a whirl.
Experience
Hey now! Here are the deets you can use to assess whether you want to take my class - I have been teaching yoga since 2010. That is when I obtained my 200 hour RYT from Aloka Life in Westport, CT (Shout out to Coasties). I have both taught and taken thousands of yoga classes.
Favorite Pose
Lately I've been interested in the transitions; especially between balance poses. There's a sensation of engaging and holding on in one area, as you let go in another area that I find fascinating.
Favorite Quote
"You've got to fight for your right to party."
– Beastie Boys
Why I Love Dragonfly
What kind of question is this? Because Dragonfly is the best! Duh. That's like asking why the sky is blue. No one knows. Well, maybe, like, a super, smart genius knows why the sky is blue, but I'm just a yoga instructor; not a scientific mastermind.
Seriously, I love that I never feel judged. I am comfortable on my mat. And also the front desk staff are so chill.
Little Known Fact About Me
Shhhhhh... don't tell anyone that I am obsessed with the TV show Riverdale.