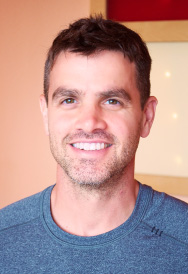 John Harmon
Instructor
certifications
E-RYT 200
TRX
Baby Om

My Teaching Style
I think yoga is an art form and that it should be fun. I want to share my exuberance. I vary my classes, but I like to celebrate the athleticism of a vigorous practice. For me, the mindfulness in my practice comes via challenging my body. It's hard for me to worry about everything I have going on off the mat while I'm in a lunge or standing on one leg. I like to think we can use the poses and sequences as metaphor for the strength, balance and flexibility we need off the mat, in our daily lives. I really enjoy smiling and laughing during a yoga class.
Background
I received my 200 hour training from Aloka Life in 2010. I'm also a TRX instructor and the first certified male Baby Om teacher. I've been practicing at Dragonfly since moving back to Madison in 2011.
Favorite Pose
Tree! I love balance poses. They're kind of surreal. You're all sweaty, standing on one leg in a room full of strangers. Where else do you get that?
Why I Love Dragonfly
I love the vibe and the friendliness of the staff. You come in and are welcomed; which just makes it easier to enjoy your practice and have fun (both of which I am a huge proponent of).