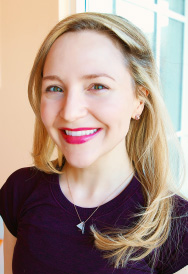 Jessica Maslowski
Instructor
jessica.m@dragonflyhotyoga.com
certifications
CYT
RYT

My Teaching Style
At times an hour on our mats may be the only time we take for ourselves in a day, so I strive to create classes I hope inspire, challenge and bring a little joy and comfort to your day. In class, I hope you feel welcome to find any modifications, poses and the practice you need - even when this means simply joining for Savasana, the heat, the aromas, the music and wonderful Dragonfly community!
I love to teach both Flow and Aroma Yin and try to bring a little creativity, levity and aromas to both. Music and essential oils are two more little passions of mine, so all suggestions and requests, be they poses, music or aromas, are always welcome and appreciated.
Experience
I began practicing yoga at 29, because looking forward into my 30s, I wanted to be stronger for me, for those I love and hopefully someday for future munchkins.
Flash forward 4 years, my body and relationship with it had never felt stronger. I was also newly engaged, planning a move (back) to the wonderful city of Madison! and planning a wedding - a perfect time, I thought, to deepen my practice, meet new friends and perhaps teach.
I'd never practiced at Madison studios, and took a chance on what looked to be a wonderful studio and program at Dragonfly, but what I found at Dragonfly's Summer Intensive Teacher Training was so much more than what I hoped for: a caring, welcoming community; inspiring, awesome classes in gorgeous hot studios; a challenging and rewarding program; and a crew of wonderful new friends, including our fabulous, kind and supportive teachers, Tiffany Geier and Bekah Gant! I was also surprised to find a joy for creating and guiding classes that I hope you enjoy too.
Favorite Pose
I have so many, including: Eagle, Dancer and Warrior III. I love the beauty, balance and power of these poses.
Favorite Quote
"Great people do things before they are ready. Before they know they can do it. Doing what you're afraid of, getting out of your comfort zone, taking risks like that, that's what life is. You might be really good. You might find out something about yourself that's really special. And if you're not good? Who cares. You tried something. Now you know something about yourself."
– the great Amy Poehler
Why I Love Dragonfly
In addition to the above, the Dragonfly community (teachers, staff and students) is so wonderfully diverse, kind and welcoming. It always feels like a treat to take or guide a class at Dragonfly, and it's made my move back to Madison a wonderful experience!
Little Known Fact About Me
My fiancé captured my heart by writing and recording a song for me after our first date - complete with vocals, electric guitar and drums in just an afternoon! My Venezuelan (The Jessica Song) is now on Spotify! This talented musician is also quite the yogi and can be spotted frequenting a variety of Dragonfly classes, usually alongside the song's muse ;)
Jessica Maslowski's Class Schedule