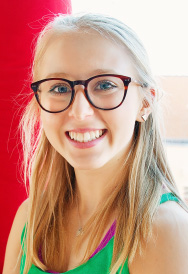 Haley Matchette
Staff
Experience
I began practicing yoga as an alternative way to stay in shape, but soon found it to be highly beneficial for both my physical and mental health. I absolutely love to practice ujjayi breath even during my regular work/school day to center myself when faced with challenges. My mantra in yoga is to breathe, because even something so simple can have such a large impact.
Favorite Pose
Chair pose - it is always a challenge, yet makes me feel strong.
Favorite Quote
"All we need is love."
Why I Love Dragonfly
Dragonfly is a place where I can be myself and forget about the worries from my day. Whether it's seeing smiling faces come through door while I sit behind the desk or participating with the many amazing yogis in a class, I feel an energy that calms me down, lifts me up or helps with whatever I may be feeling. I walk out of Dragonfly feeling better than when I walked in, every time I come here.
Little Known Fact About Me
I'm a business/marketing/Apple products geek and love to network and talk to anyone and everyone about my passions. :)