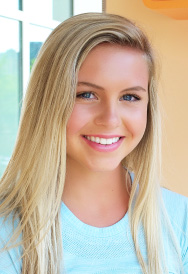 Greta Schmitz
Staff
Experience
I have been an active member of Dragonfly for the past year and a half now. My Dad introduced me to yoga and I decided to start going to get away from the normal gym routine. I instantly fell in love with it. The physical and mental challenges hot yoga provides are so healing and rejuvenating.
Favorite Pose
My favorite pose is Dancer Pose. It is an elegant and energetic pose that pushes me to my limits every time. I appreciate the sensations of lengthening and openness that Dancer Pose brings. It allows my spirit to shine while challenging me physically and mentally.
Favorite Quote
"Keep your head high, keep your chin up, and most importantly, keep smiling, because life's a beautiful thing and there's so much to smile about."
- Marilyn Monroe
Why I Love Dragonfly
Dragonfly is such a positive and welcoming environment that provides me with energy and mindfulness. The variety of classes offer a different experience each time. The amazing instructors care so much about every individual yogi and I can always walk in and out the door with a smile on me face. :)
Little known fact about me
I love to play the guitar!