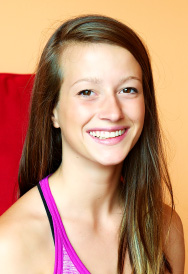 Frances Moonen
Staff
Experience
My experience with yoga started as of recently, while I was looking for something to challenge me in my daily workout routines. Being physically active has always been a huge part of my life, helping me to relieve stress and see what my body is capable of. So one day about a month ago I finally got up the courage to take my first yoga Flow class and oh man did I sweat it out. I absolutely loved how it challenged me both in the mental and physical aspect.
Favorite Pose
Cobra - opens the chest & torso
Favorite Quote
"Fairy tales are more than true: not because they tell us that dragons exist, but because they tell us that dragons can be beaten."
Why I Love Dragonfly
When I first walked into Dragonfly the atmosphere was very inviting and relaxed. Love how each class is different and challenging.
Little Known Fact About Me
I am the middle child of five. 3 sisters and 1 brother (he's the youngest)