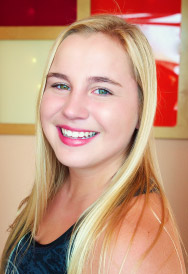 Emily Hayden
Instructor
certifications
CYT
RYT

My Teaching Style
Give yourself the gift of 'me time' during my yoga classes! My classes have a healthy balance of movement and stillness. They are challenging yet accessible to everyone. I tend to cue on mindfulness, body positivity, intentional breathing and energy flow. My hope is that your mind and body feel more open and in tune when you roll up your mat at the end of class!
Experience
I recently graduated from UW-Madison with a Bachelors of Science in Neurobiology and a Certificate in Studio Art. When I moved to Madison in 2016, I wandered into Dragonfly searching for an outlet to exercise, cope with stress, and continue my yoga practice. I was absolutely hooked. I began to notice positive shifts in many aspects of my life. As a curious yogi wanting to share the practice with others, I decided to enroll in the 200-hour Dragonfly teacher training program in the summer of 2018. This was one of the best experiences of my life. Since then, I've taught more than 350 hours of yoga classes and have never looked back!
Favorite Pose
I love half crocodile, half pigeon, and half moon. Lots of halvsies!
Favorite Quote
"The soul becomes dyed by the color of its thoughts"
– Marcus Aurelius
Why I Love Dragonfly
Where to start! Dragonfly is a welcoming community of delightful people – both practitioners and staff. The space has a sincere sense of ease and nonjudgement. Every time you walk through the door you'll be greeted with a smile.
Little Known Fact About Me
I have two different colored eyes!
Emily Hayden's Class Schedule