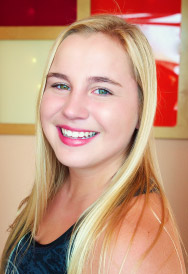 Emily Hayden
Instructor
certifications
CYT
RYT

My Teaching Style
I guide a steady-paced yoga class that allows you to expel energy through movement while also offering relevant time for you to find depth in a pose. My classes are challenging yet accessible to everyone. I love to offer a deeply rooted intention at the beginning of each class, but I balance this internal focus with my playful nature that will always encourage you to smile! My goal is for you to find a balance between effort and ease on your yoga mat so that you can begin to translate this into your daily life. I encourage everyone to attend my class, no matter if you are searching for a sweat or wanting to spend every minute in savasana!
Experience
I am a student at UW – Madison studying Kinesiology, Psychology and Art! When I moved to Madison, I wandered into Dragonfly searching for an outlet to exercise, cope with stress, and continue my yoga practice. Needless to say, I was absolutely hooked. I began to notice positive shifts in many aspects of my life. I now realize that there is SO much more to yoga than just exercise and stress relief.
As a curious yogi wanting share the practice with others, I decided to enroll in the 200-hour Dragonfly teacher training program in the summer of 2018! This was one of the most enlightening experiences of my life and I highly recommend it to anyone who has even the slightest inkling that they want to teach yoga.
Favorite Pose
I have a wide variety of answers – it is very dependent on how I am feeling. I seem to frequently answer with Half Crocodile. It is so restorative and relaxing!
Favorite Quote
"When the roots are deep there is no reason to fear the wind"
– African Proverb
Why I Love Dragonfly
Where to start! Dragonfly is a welcoming community of delightful people – both practitioners and staff. The space has a sincere sense of ease and nonjudgement. Every time you walk through the door you'll be greeted with a smile. And of course, the cool scented towels at the end of class are a plus!
Little Known Fact About Me
I have two different colored eyes!
Emily Hayden's Class Schedule