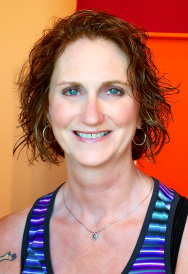 Dawn Zurawicz
Instructor
certifications
BarreAmped
Mat Pilates Certified
LMT
BCTMB

My Teaching Style
My teaching style reflects my personality: nurturing, creative, motivating & fun! It is important to me that class participants feel challenged and have fun during a workout. It should feel like work, but work that you enjoy doing!
Experience
I was introduced by a friend to yoga classes at Dragonfly Hot Yoga in January 2016. It was just what I needed. I had been feeling stressed and unhappy at an office job I was going to daily. Through several months of attending yoga classes over the winter and deciding what was important to me in life, I decided to return to Massage Therapy and have opened my own private practice in Sun Prairie.
During my trial period at Dragonfly, I tried several classes and enjoyed many. I found among my favorites were Slow Flow and Yin classes & fell in LOVE with BarreAmped! I felt the same way when I began taking Pilates classes years ago, which led me to become a Pilates Instructor. I am currently in training for Pilates Equipment Certification. I took the BarreAmped certification in May 2016 and am very excited to be teaching classes!
Favorite Pose
Half Pigeon – I love this hip opener pose.
BarreAmped – Seated Chair – So challenging and so effective!
Favorite Quote
"And the day came when the risk to remain tight in a bud was more painful than the risk it took to blossom."
-- Anaïs Nin
Why I Love Dragonfly
I felt welcomed from the very first class. Everyone was so kind and friendly. The instructors are all wonderful and unique. I am happy to be a part of the Dragonfly community!
Little Known Fact About Me
I have completed several sprint triathlons, a Half Ironman in 2008 and Tough Mudder in 2013. No need to do either one of those events again! :)