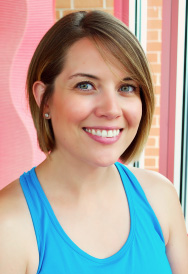 Dani Butalla
Instructor
certifications
CYT

My Teaching Style
Yoga continues to challenge and inspire me mentally and physically every time I have the opportunity to step on to my mat. I've always enjoyed taking classes that help me take a pause from the outside world and give me the opportunity to challenge my breath, movement and provide me with the space to let go. Yoga provides the opportunities to meet you where you are at and leave feeling stronger, energized and knowing you can take what you've learned on your mat into your daily life. I hope and strive to create an atmosphere that you genuinely feel safe and welcomed, providing you with challenges and encouragement as you discover your own personal edge with a little quirkiness and the opportunity to let go with some great tunes!
Experience
I dabbled in yoga throughout the past, but really began my journey during my pregnancy with my daughter in 2015 while attending the Prenatal classes offered through Dragonfly. I have always been an active individual and during my pregnancy it was important for me to continue to give time and space to my mind and body. Yoga offered me a place to focus on myself during a transitional time as I took on an additional identity into motherhood. After having my daughter, yoga continued to be one of the best ways for myself to work my mind and body and I knew yoga was going to become a piece of me and my lifestyle. Since then Yoga has continued to challenge and inspire me no matter where I am in my journey, and it is something I can't get enough of! During the summer of 2017, I completed my 200 hours through the Dragonfly Hot Yoga Teacher Training Intensive Program and it has forever enriched my life for the better!
Favorite Pose
Ardha Chandrasana- Half Moon, I love a good balance pose, not because I love to balance or I am good at it, but because after falling out of a balance pose it's always clear that if you keep straining, it will never happen. Balance poses are really for improving your mental balance and challenging your ability to let go. Often times it's not about staying in the balance, it's about how you react when you fall out of it.
Favorite Quote
"You can't go back to change the beginning, but you can start where you are to change the ending."
– C.S Lewis
Why I Love Dragonfly
I love Dragonfly because no matter what studio I walk into I always feel welcomed and exactly where I need to be. From the desk staff to the instructors there is always a place for you at Dragonfly!
Little Known Fact About Me
Although I've traveled through many parts of the States I have never flown in a plane before!