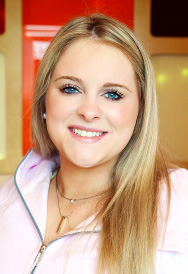 Cora Kinney
Staff
Experience
I was introduced to Dragonfly by my aunt in December 2018, I fell in love instantly and became a member in February. I played sports all throughout high school and struggled to find something I loved until I started at dragonfly. The positive environment and the welcoming people just make it that much better. Yoga Up, Power Up, and Circuit Up are my favorite classes there is no doubt I'll leave without having a challenging workout and feeling great about myself.
Favorite Pose
Tree pose
Favorite Quote
"Be somebody that makes everybody feel like a somebody"
-Brad Montague
Why I Love Dragonfly
Going to Dragonfly is something I look forward to everyday. I have met many amazing people and the variety of classes opens me up to step out of my comfort zone. It is the perfect place for me to relieve stress and focus on taking care of myself.
Little Known Fact About Me
Basketball and Softball are my favorite sports.