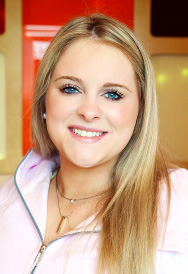 Cora Kinney
Instructor
certifications
Power Up

My Teaching Style
My teaching style is energetic and fun! I love cardio so expect to see that with a good mix of strength training. I encourage my clients to push themselves in new ways but ultimately find a place where they feel their strongest. Music is a big part of my workouts so expect my classes to have an upbeat playlist!!
Experience
I was introduced to Dragonfly in December 2018, I fell in love instantly and became a member in February 2019. I played sports all throughout high school and struggled to find something I loved until I started working out at dragonfly. The positive environment and the welcoming people just make it that much better. I started working the desk in May of 2019 and knew I wanted to eventually teach an Up class! Yoga Up, Power Up, and Circuit Up are my favorite classes there is no doubt I'll leave without having a challenging workout and feel great about myself.
Favorite Pose
Any cardio!! Especially burpees… or savasana ;)
Favorite Quote
"There are dreamers and there are doers, I encourage you to be both."
Why I Love Dragonfly
Going to Dragonfly is something I look forward to everyday. I have met many amazing people and the variety of classes opens me up to step out of my comfort zone. It is the perfect community for me to relieve stress, have fun, and focus on taking care of myself.
Little Known Fact About Me
I love country music.
Cora Kinney's Class Schedule