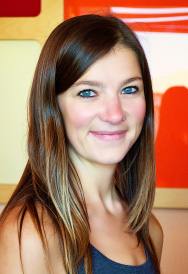 Available for private sessionsMore info >
Cassie E.
Instructor
Available for private sessions
certifications
CYT
RYT

My Teaching Style
My teaching style is to make you feel powerful and strong no matter how much yoga experience you have. I am a big believer in Yoga is for every "body" and I want to help people discover that for themselves. Some yogis think they are not flexible, strong or Zen enough to preform yoga when really there is a place for everyone!
Experience
I completed Dragonfly Hot Yoga's 200-hour teacher training in the winter of 2016 and am also registered with Yoga Alliance. Dragonfly was where I first practiced yoga and I have been in love ever since. I have been practicing here since the start of my yoga journey in 2013.
Favorite Pose
Dancer: I feel so strong and proud in this pose, it also brings out playfulness in me (since I usually fall out at some point)
Favorite Quote
 "Happiness can be found, even in the darkest of times, if only one remembers to turn on the light."
- The Prisoner of Azkaban (from the screenplay, by Steven Kloves)
Why I Love Dragonfly
I first found dragonfly during a struggle with self-confidence and weight. Yoga and the Dragonfly community helped me realize that every "body" really is amazing in the things we can perform and the growth we can develop. I know now that am both beautiful inside and out! I think of Dfly as my home away from home <3
Little Known Fact About Me
I "lived" in the Amazon Rainforest at an animal refuge center for about 2 weeks during a trip I took in college. We also visited the Galapagos Islands and met the one and only lonely George! It was the most beautiful place I have ever set foot on.