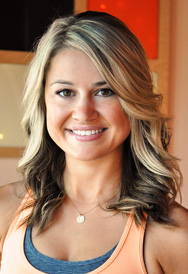 Caroline Rindahl
Instructor
certifications
CYT
RYT
CTA

Experience
I completed my 200 hour yoga teacher certification with Deborah Williamson of Midwest Power Yoga in July 2013. I also teach Kindergarten and enjoy incorporating yoga in the classroom.
Favorite Pose
Bird of Paradise
Favorite Quote
"Comparison is the thief of joy."
–Theodore Roosevelt
Why I Teach Yoga
I love the way yoga makes me feel physically and mentally. After years of searching for a workout I enjoyed, I tried my first yoga class and became hooked. I realized soon after that I wanted to share the benefits of yoga with others.
Why I Love Dragonfly
My first yoga experience was at Dragonfly and I immediately felt welcomed, secure, and confident even though I had no experience. The atmosphere is inviting and friendly. Dragonfly welcomes and relates to students of any level. I am so excited to be a part of studio that is welcoming to all practitioners.
Which actress would play me in a movie?
Danielle Fishel (Topanga from "Boy Meets World" – I was told throughout middle school that we looked just alike!)