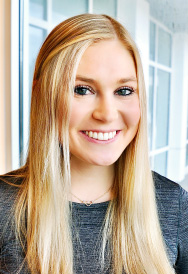 Caroline Boynton
Instructor
certifications
CorePower 200-Hour Yoga Teacher Training
CorePower C2 Intensive

My Teaching Style
I love for my students to use my class as one hour in their day to disconnect from the chaos outside of the studio by focusing on only what's on their mat: the mind, body, and breath. I strive to provide my students with 60 minutes to soothe their minds while physically working their bodies. I work to formulate challenging yet meditative sequences with fun and uplifting music.
Experience
I first discovered yoga in my early teens. Between field hockey, lacrosse and running, I fell in love with the benefits that a consistent yoga practice would offer to my body. As I completed my sports career, I noticed that yoga had grown to hold a much stronger meaning in my life than simply stretching my muscles. Yoga seamlessly became an integral part of my self-care. I quickly found that through teaching, I had the power to not only inspire and educate others on yoga, but I also found a new level of confidence and empowerment. I completed my Power Yoga 200 Hour Teacher Training over the summer of 2019 at CorePower Yoga in Santa Clara, California.
Favorite Pose
Half Moon Pose or Ardha Chandrasana - I love half moon pose because it is a posture I have worked to develop and I am always challenged both physically and mentally when working towards my fullest expression. It requires muscle engagement from your abdominals, seat, and thighs and is a great hip opener. Plus-it takes a lot of focus for me to maintain my balance!
Favorite Quote
"Life is amazing. And then it's awful. And then it's amazing again. And in between the amazing and awful it's ordinary and mundane and routine. Breathe in the amazing, hold on through the awful, and relax and exhale during the ordinary. That's just living heartbreaking, soul-healing, amazing, awful, ordinary life. And it's breathtakingly beautiful."
—L.R. Knost
Why I Love Dragonfly
As a student, I have always loved taking classes at Dragonfly. The community is unlike any other studio...it is the type of environment that instantly improves my mood. From the comforting, vibrant studio spaces to the welcoming, dedicated staff and students, each class benefits the mind and body. I am so excited to see how I will grow as a teacher through Dragonfly!
Little Known Fact About Me
A few years ago, I summited the second-highest peak of Mount Kenya, Point Lenana, and it was one of the most challenging yet memorable accomplishments I have made. We woke up at 2 a.m. on the last day of the climb so that we would summit right as the sun rose... seeing the sunrise from over 16,000 feet up was unreal.
Caroline Boynton's Class Schedule