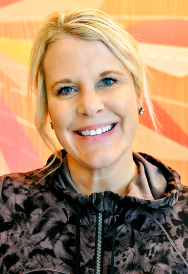 Carla Kinney
Staff
Experience
A HUGE thank you to my sister Tammy, for introducing me to Dragonfly in January, 2019! She has been a member for a long time and has expressed her love for Dragonfly and the community. I was looking for a change in my workouts and thought I would join her for a class…I was hooked after that!
Favorite Pose
Mountain Pose
Favorite Quote
"Everyone is my teacher. Some I see. Some I subconsciously attract. Often I learn simply by observing others. Some may be completely unaware that I'm learning from them, yet I bow deeply in gratitude."
Why I Love Dragonfly
Dragonfly is simply the best…the culture is so welcoming, positive and inspiring!
I appreciate the warm welcome by the staff no matter if I am attending an early morning class or an evening class.
I value the knowledgeable instructors…they are passionate, creative and inspiring!
I enjoy the wide variety of classes and class times…I love the physical and mental challenge each class offers.
I am grateful for the dragonfly community…friendly, hardworking and supportive!
I am extremely thankful for my early morning workouts with my daughter, Cora.
Dragonfly is good for my soul!