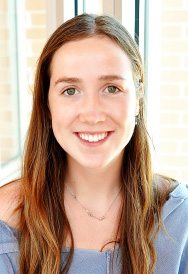 Bryn Johnson
Staff
Experience
I started practicing at dragonfly about four years ago when I was in high school. I initially went to chakra flows, yin classes and other classes that focus on mindfulness and breathing. Today, I love the high intensity classes and the meaningful workout and sweat that I get out of cardio bursts and supersets. I love committing myself to my mat for 60 minutes and taking that time to focus on me.
Favorite Pose
Malasana- yogi squat
Favorite Quote
"Be tough, yet gentle
Humble, but bold,
Swayed always by Truth and Beauty"
Why I Love Dragonfly
I love the feeling of comfort that dragonfly provides for me. It's always a stress reliever that I look forward to, especially during hectic undergrad semesters! The environment is nonjudgemental, respectful and makes working out fun! I always love seeing a familiar face when I go to class, whether it be during the school year or during summer vacation, I can always count on seeing a smiling face!
Little Known Fact About Me
I spent a dreamy semester abroad in Budapest, Hungary.