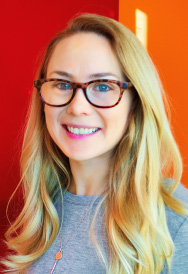 Brooklyn M.
Instructor
certifications
Power Up

My Teaching Style
I'm a high energy person, and that reflects in my teaching as well as my own practice. I like to create a safe space for students to challenge themselves physically and mentally, but more importantly be playful and have fun! Everyone is in a different place each time they come to their mat, so I encourage students to listen to their own body. My goal is that everyone leaves class with a smile on their face!
Experience
I've been an athlete my whole life. Anything from softball to water skiing – if it's fun, challenging, and keeps me moving, I will try it!
I started attending classes at Dragonfly in 2015. After I finished my first Power Up class, I was hooked! I completed Power Up instructor training in Fall of 2017.
Favorite Pose
My favorite yoga pose is Wheel. I love any pose that strengthens my back and wheel lets me stretch my entire body.
My favorite Power Up exercise... Reverse Burpees! They are so much fun!
Favorite Quote
"The greatest accomplishment is not in never falling, but in rising again after you fall."
- Vince Lombardi
Why I Love Dragonfly
I've always been an active person, but never enjoyed instructor led fitness classes… until I found Dragonfly. From the very first time I walked into the downtown studio – I felt comfortable and welcome (by the staff, instructors, and fellow yogis). Dragonfly has such an amazing atmosphere, it has become my happy place.
Little Known Fact About Me
I love camping. I dream of traveling and living out of our tiny (13 foot) camper one day (with my husband, dog, and cats).
Brooklyn M's Class Schedule