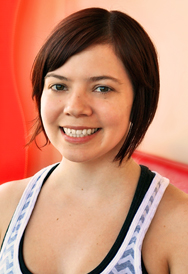 Brenda S.
Instructor
certifications
200 RYT
Adult First Aid/CPR/AED

My Teaching Style
I often describe my class as a "choose your own adventure" flow, as I like to give plenty of options and let you decide what feels best for you on your mat each time you step into class - whether you're craving a more gentle practice, putting the pedal to the metal, or working on a new pose, I'll always encourage you to listen to your body! My classes are designed to be accessible yet challenging for all students, with creative sequences that help keep you engaged and exploring your practice with a little bit of playfulness. We'll move with breath and take time to gently open up the body before working into more challenging or complex poses. With a wonderful balance of effort and relaxation, you'll leave class feeling totally rejuvenated!
Experience
I took my first yoga class 17 years ago, and immediately fell in love. Though I didn't always have access to a yoga studio, I kept coming back to yoga. In the last few years, I've become truly dedicated to my practice and found so much more than I thought possible through yoga. It was my dream to share my love of yoga by bringing it to others, so I received my 200-Hour RYT certification with a concentration in Power Flow from Inner Fire Yoga in early 2014, and am truly honored to have the opportunity to teach. I'm also currently taking Core Strength Vinyasa training, and am excited to get certified in Aerial Yoga this summer!
Favorite Pose
Airplane! It's such a wonderful pose to build both strength and confidence, and allows for so many fun transitions between other favorite asanas. Even on days when we experience some turbulence, taking a little flight in our practice can be so uplifting!
Favorite Quote
"The trick is in what one emphasizes. We either make ourselves miserable, or we make ourselves happy. The amount of work is the same." 

― Carlos Castaneda
Why I Love Dragonfly
The first time I walked into Dragonfly, I felt immediately welcome. It is such a warm, welcoming, and beautiful space - with wonderful teachers that are eager to lead you through a great practice! It is easy to see that Dragonfly truly is a studio for everybody, at every step along their yoga journey.
Little known fact about me
I grew up out on a farm and was a total tomboy for most of my life. I don't think I willingly wore a dress until I was into my 20s. Something happened along the way and now half my yoga wardrobe is purple and I absolutely love getting the chance to dress up! But I'm still a tough little cookie.

Please enable Javascript in order to get HealCode functionality