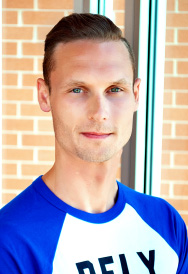 Brady Greco
Instructor
certifications
CYT

My Teaching Style
I consider each of my classes to be challenging both physically and mentally. It is extremely important to me to connect with my students to see and hear what their needs are, so that they can receive the greatest benefit of their practice. I make it a priority in my classes to be serious yet have fun and have a space to be creative all at the same time. You can expect a dynamic and uplifting class that will leave you in a state of vitality. I consider myself a student of all schools of yoga and am extremely honored to have the opportunity to share your yoga journey.
Experience
I was introduced to yoga as a supplement to benefit my athletic training many years ago. After a career as a division 1 and professional athlete, I found my practice to be healing yet challenging to both the body and mind. My passion and desire to help others guided me to pursue my 200 hour certification in the summer of 2015.
Favorite Pose
It ALL depends on the day, today is a savasana kinda day.
Favorite Quote
"You're in pretty good shape for the shape you are in."
– Dr. Seuss
Why I Love Dragonfly
I love Dragonfly simply because of the community! The teachers, practitioners, and staff are extremely professional, knowledgable, and passionate about creating a positive environment for anyone and everyone to thrive and succeed in their personal goals. I am truly honored and privileged to be a part of this wonderful community!
Little Known Fact About Me
I have a 3 year old Silver Lab named Stanley.