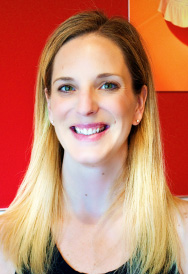 Beth Ott
Instructor
certifications
BarreAmped

My Teaching Style
I like to laugh and have a good time in my classes while making them as inclusive as possible. I want to meet my students where they are at and take them to the next level with the right amount of support and guidance to get them there. My goal is to challenge every student, including myself, so we can all continue to grow and "shake to change"!
Experience
I have been practicing yoga off and on for many years, and when Dragonfly opened their Sun Prairie studio in the spring of 2015, I was hooked. I began practicing both yoga and BarreAmped, and was thinking about how I could continue to grow in my practice. Utilizing my teaching background, I looked into BarreAmped instructor training, and took the BarreAmped training with Kim G. at Dragonfly! It was one of the best decisions I've made and I am very excited to continue to grow in my practice along side the Dragonfly community.
Favorite Pose
Seated chair! I used to avoid this exercise, but after I figured out how to make it work with my tall body, I look forward to this pose.
Favorite Quote
"Ask yourself what makes you come alive, and go do that, because what the world needs is people who have come alive."
-Howard Thurman
Why I Love Dragonfly
The community that is Dragonfly is so very special and unique. I don't think there is any one thing that makes Dragonfly what it is, but a multitude of things, including the welcoming atmosphere, the knowledgeable instructors, and the supportive community of students. I am so proud to work beside such an amazing community.
Little Known Fact About Me
I refinish furniture in my spare time, and I love remodeling my house.