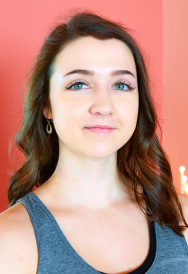 Belle K.
Instructor
certifications
BarreAmped Level 1 & 2

My Teaching Style
I've been a regular barre attendee for years now, so I know what it feels like to be in your place. I consciously remind myself of the importance of stretching, taking breaks, and maintaining the flow of class. As a class participant I always appreciate the variety of movements available and try my best to shake things up (literally and figuratively!). I hope my students fall in love with barre like I did - it's an amazing way to tone up and develop a mind/body connection. You'll likely see me at the barre with you on days I'm not teaching because I practice what I preach!
Experience
I'm from the Madison area, but attended the University of Minnesota and graduated in 2016 with a degree in Human Resources. I returned home every summer for various internships and that's how I learned of Dragonfly. An internship at a company in Middleton meant that I drove past the Dfly studio nearly every day until eventually I decided to stop in. The atmosphere was so inviting that I signed up for a membership on the spot! After taking barre for years I decided to further my practice by getting instructor certified in 2018.
Favorite Pose
Pretzel (Barre) & Embryo (Yoga)
Favorite Quote
"She believed she could, so she did"
- R.S. Grey
Why I Love Dragonfly
I resonate with the supportive teaching styles offered at Dfly and the community it has brought me. The staff take time to remember your name and make you feel like family when you walk in the door, which really makes a difference. And in class you'll always be given options to challenge yourself, take it easy, or simply do your own thing. Everyone I have met through participating and teaching has been so positive and I think positivity flows through all that Dfly does.
Little Known Fact About Me
I love scary movies :)
Belle K's Class Schedule