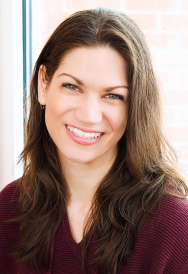 Bekah Gant
Instructor
certifications
RYT 200

My Teaching Style
I love to challenge my students both on and off the mat, so I incorporate inspiration for daily life into the practice. One of my favorite parts of class is providing hands-on assists. I believe yoga is a deeply connective practice, both to the self and to the greater whole, and assists are part of how I transfer energy to my students, allowing them to go deeper into their practice. My students leave class feeling stretched physically and mentally, yet encouraged and uplifted.
Experience
My yoga journey started over a dozen years ago in an adult ballet class, of all things! I was looking for ways to challenge my body between classes, and discovered a yoga/pilates class that did just that! I always left class feeling strong and calm, and was totally hooked.
Over the years, I dabbled in yoga and fitness classes here and there, finally settling on a personal practice that was part Vinyasa, part Ashtanga. When the instructor who offered yoga as a wellness class at my place of employment moved away, I offered to lead my co-workers in informal practice. It was then that I realized that I had a voice and could teach yoga, too, and I set that as one of my life goals.
When I moved from North Carolina to Madison, WI, I had the opportunity to take Dragonfly Hot Yoga's teacher training with Tiffany Geier. The intensive program was everything I had hoped for: challenging, supportive, and instructional, and I'm excited to be able to lend my voice to the amazing community of yoga teachers I've had the joy and pleasure of meeting.
Favorite Pose
Crow/Side Crow. These were the first arm balances I could ever do, and to this day I still remember that feeling of strength and of "getting it" that I had when I first managed to tilt into position.
Favorite Quote
"I am content with what I have, and hope for better." - Jeremiah Burroughs
Why I Love Dragonfly
Everyone is so warm and friendly! I've not met a single person who is anything but kind and encouraging. It's the place to be for support in practice and in life.
Little Known Fact About Me
I absolutely adore classic children's literature