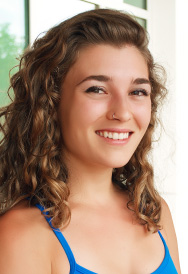 Becca Lucarelli
Instructor
certifications
RYT 200

My Teaching Style
I teach with a welcoming personality to make the class inclusive and attainable for all people! I encourage students to find the unique balance between challenging themselves and also honoring their bodies. I like to remind students not to compare themselves to others because it draws from their individual practice. My sequences follow patterns of tension and release, by building up heat and then letting everything go. In my classes, you'll hear plenty of anatomical references because I study Exercise Science and deeply appreciate the way our bodies are functionally designed! In the background, you'll hear upbeat music, and hopefully take away a little nugget of truth by the end of class.
Experience
I'm lucky to say I found yoga very early in life, even before high school! I believe that the gentle influence of yoga came at the perfect time, allowing me to practice self-love, gratitude, and mindfulness at a young age. Throughout high school, I continued to love yoga, discovering that I enjoyed it even more than sports because of the non-competitive nature. I dreamed of teaching and sharing the beauty of yoga with those around me! In 2016, I was fortunate to have participated in Dragonfly's summer intensive teacher training, led by Tiffany Geier. Since then, I have taught weekly classes at my college campus, Carroll University.
Favorite Pose
It would have to be an even tie between Garudasana (Eagles Pose) and Supta Baddha Konasana (Reclining Bound Angle Pose). Both are two very different poses, I know! I find the twisting, compact nature of Garudasana to be vitalizing but also grounding. I feel warmth and abundance in Supta Baddha Konasana, especially towards the end of a class.
Favorite Quote
"She turned her can'ts into cans and her dreams into plans."
– Kobi Yamada
Why I Love Dragonfly
Coming to Dragonfly, you don't simply enter another yoga studio. You enter a community with friendly faces who want to know you better and help you grow in your yoga journey. Dragonfly is full of warm, welcoming people who simply want you to be you!