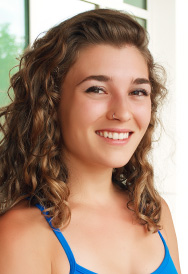 Becca L.
Instructor
certifications
RYT 200

My Teaching Style
I aim to teach with a welcoming approach to make the class inclusive for everyone! I encourage students to find a balance between challenging themselves and also honoring their bodies. My sequences follow patterns of tension and release with a gradual arc of progression throughout class.
Experience
In 2016, I was fortunate to have participated in Dragonfly's summer intensive teacher training, led by Tiffany Geier. During my college experience, I taught toga to my peers at Carroll University. Since returning home to Madison, I am grateful to be back at Dragonfly, the studio that started my love for yoga.
Favorite Pose
Supta Baddha Konasana (Reclined Bound Angle Pose). Very grounding and relaxing.
Favorite Quote
"She turned her can'ts into cans and her dreams into plans."
– Kobi Yamada
Why I Love Dragonfly
Coming to Dragonfly, you're not just entering a yoga studio. You're joining a community of people who want to support you in your yoga practice. I appreciate the ways Dragonfly creatively served the community throughout the pandemic, with the OnDemand online classes and eventually a variety of in-person classes where students can feel safe and relaxed.
Becca L's Class Schedule