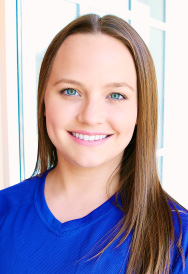 Ashley Ryan
Instructor
certifications
BarreAmped

My Teaching Style
I love to lead an energetic class through challenging workouts, encouraging reinforcement, and awesome music. It is my goal for you to enjoy class to the point of losing yourself in your workout so that class feels like it flies by! We're going to feel that shake and we're going to LOVE that shake!
Experience
I joined Dragonfly in 2013 as a newbie yogi. I instantly fell in love with it and was continually noticing the physical and mental benefits my practice was giving me. I started attending BarreAmped classes in 2017 and liked it so much that I decided to become an instructor. I received my BarreAmped Instructor certification in December 2017.
Favorite Pose
My favorite BarreAmped exercise is Standing Seatwork. It is such a tiny movement but SO effective.
Favorite Quote
"Live in the sunshine, swim the sea, drink the wild air."
– Ralph Waldo Emerson
Why I Love Dragonfly
I love Dragonfly because ever since my first class, when I had never even heard of a chaturanga, I have always felt welcomed and I continue to learn in every single class. Dragonfly truly is a place for every single person, no matter where you are on your yoga journey.
Little Known Fact About Me
I have been to Jamaica ten times.
Ashley Ryan's Class Schedule