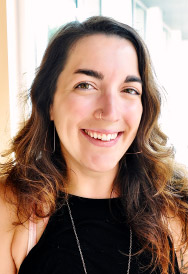 Ashley Haan
Instructor
certifications
200 Hr CYT
75 Hr Yoga + Social Equity Training

My Teaching Style
It's pretty rare to catch me without a smile on my face. My whole heart and soul believes that you can find a positive spin on any situation and still maintain a balanced perspective. Yoga brings me an unquantifiable amount of joy and I want to be able to share that with as many souls as possible.
Things you will feel in my class: support, encouragement, challenge, balance of pace and energy, and confidence to bring your best self forward without judgement.
Things you will hear in my class: music, laughter, and a lot of breathing.
Experience
I have been practicing yoga since 2012 and completed my 200 hour CYT at 21st Century Yoga on the Mat in June 2019 in Madison, WI. During August 2020, I enrolled in various training sessions through Body & Soul Yoga Collective in San Francisco to explore how to ensure social equity and justice in my teachings and practices on and off the mat. I intend to be a life-long learner of yoga and love experiencing new yogic adventures through a beginner's eye. When I'm not on my mat, I'm usually behind the bar at State Line Distillery slingin' drinks, getting my butt kicked in pilates, out for a run, or cycling around Madison.
Favorite Pose
Any inversion followed by a sweet, sweet child's pose. There is nothing like spending some time upside down to make the world feel balanced again.
Favorite Quote
"When I started counting my blessings, my whole world turned around."
– Willie Nelson
Why I Love Dragonfly
Every time I walk into the doors of any DragonFly, I feel an overwhelming sense of community, collaboration, creativity, challenge and support.
Little Known Fact About Me
I'm a dog mama and a chicken tender! My partner and I have four doggos (Ernie, Darlin', Timber, & Tuna) and five chickens (Rhonda, Blanche, Poach, Celeste, & Celine).
Ashley Haan's Class Schedule