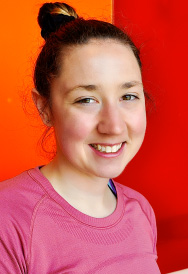 Anne H.
Staff
Experience
I found yoga while I was in college. Taking morning classes helped me prepare for the day and I felt powerful trying new poses. Fast forward a few years when I moved back to Madison and found Dragonfly while I was working at Flyght. Yoga was the missing piece in my workout routine and my body was tired from the various races. When I do yoga, it just makes sense and I feel uplifted when I leave.
Favorite Pose
Crow pose
Favorite Quote
"Your mind will give out long before your legs."
-Not sure but it is a great quote when powering through a tough workout!
Why I Love Dragonfly
The people are the best. From the clients to the staff, you know you are in good hands. Everyone cares for each other.
Little Known Fact About Me
My dream is to open up a traveling coffee cart for weddings and events! I also am attempting to master the perfect cinnamon roll.