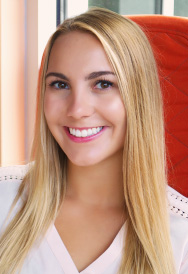 Anna Roesner
Instructor
certifications
CYT
RYT

My Teaching Style
My favorite part of teaching is seeing the ways my students make their practice unique to them, and what they need class by class. All day we spend our time telling our bodies to do things for us- walk here, write this, cook that. But what I like to incorporate into my teaching is to take a moment to listen what our bodies are telling us, and listen to that without judgement.
I love spoiling my students with lots of aromas, cold towels, and hands on assists. I'm a big believer in the TREAT YO SELF mantra (Parks and Rec reference). I love providing my students a balance between pushing themselves to their mental and physical edge, while giving them time for some really nice release and self-care.
If you want to flow, I'm down, dog :)
Experience
I first started yoga at 16. I stepped on to my mat for the first time because I heard about the ways it could transform my body, but I kept coming back because of the ways it transformed every aspect of my life. The transition from high school to college was very overwhelming, so I used my mat as my safe, familiar place to go when my whole world suddenly felt unfamiliar. Ever since that experience, yoga has been an integral part of who I am.
After committing to a frequent practice, there has been an ease to life that I didn't know was possible. Yoga has brought me immeasurable benefits mind, body, and spirit. I am so grateful for all my teachers that lead me to fall in love with this practice, and I hope to have a similar influence on my students!
Favorite Quote
"Be kind whenever possible. It is always possible."
–Dalai Lama
Why I Love Dragonfly
There are many aspects of Dragonfly that I absolutely adore– the diverse class offerings, bright colors, clean locker rooms, and prime location. However, the true reason why Dragonfly will always have a special place in my heart is the people it has brought into my life. Many of my friendships made here have blossomed from acquaintances into relationships I can't imagine my life without. It's crazy how some of my truest friendships started with flowing next to eachother for weeks in a row and debriefing about life in the tea lounge. All of a sudden I realized my yoga pals turned into the people who know me best.
During my training, Dragonfly continued to bless me with friendships. I did the 200 hour summer intensive, so spending long days with these women, we got to know each other very well in a short amount of time. I am so grateful for the unconditional love and support they give me. These women continue to inspire me every day as I see how their beautiful souls are making a difference in this world.