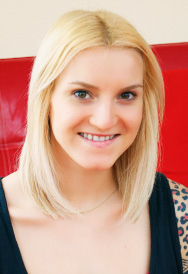 Available for private sessions
Anna Dobbs
Instructor
certifications
CYT
200 Hour RYT

My Teaching Style
I am always growing and changing in my personal yoga practice and with my teaching style. During class I strive to help yogis tune out the outside world and tune into their breath and body movements. I love exploring different poses and creating challenging sequences to keep you on your toes all throughout class. You will hear all kinds of music and I will challenge you to push yourself to your personal edge. Breathe and enjoy :)
Experience
I completed my 200 hour teacher certification at Dragonfly in March 2015, taught by the amazing Tiffany Geier. I have been practicing yoga on and off throughout my life.
Favorite Pose
Natarajasana - Lord of the Dance
Dancer pose makes me feel powerful, rooted, and strong; like I can conquer anything.
Favorite Quote
"She believed she could, so she did."
-R.S. Grey
Why I Love Dragonfly
Dragonfly automatically makes me feel welcomed and at ease. I am so blessed to be a part of a group of such amazing and grounded people. Everyone who walks in is greeted with love and a sense of community.
Little Known Fact About Me
I lived in Austin, Texas for 16 years y'all.